First Engine failure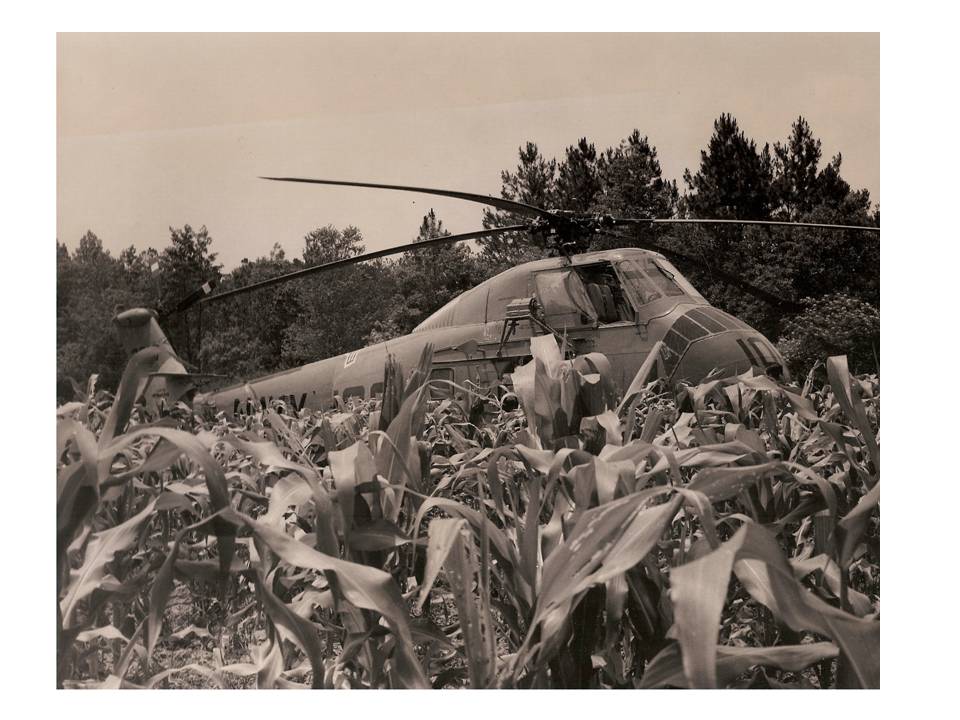 Sikorsky UH-34
H-34 over main gate of Ellyson Field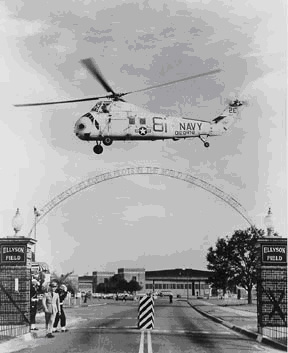 The logical evolution of earlier HO4S (H-19) reflecting services' increasing acceptance of helicopters and development of expanded operational roles. The Korean War provided solid operational experience upon which to define technical and functional requirements as well as highlight some problems. These included inadequate center-of-gravity range and control power to accommodate it, management of control loads as helicopters got larger, stability characteristics adequate for instrument flight, and more uniform and durable rotor blades. The S-58 had improved rotor and control system and, in general, significantly improved payload capacity, speed, and range which increased variety of operational missions it could satisfy.
The S- 58 designed specifically for Navy's anti-submarine warfare (ASW) mission; was able to carry increasingly sophisticated sonar equipment used by the Navy. It became known as "push button" helicopter; could be placed on automatic pilot to maintain 80 kts airspeed 200 ft above water then automatically hover at 50- ft altitude over a preselected spot for lowering sonar equipment. The Navy also used the S-58 for "Search and Rescue". The Navy's success with S-58 in ASW role led to large orders from Army and Marines for other missions.
The Army was primary user as troop and supply transport. By 1958, CH-34s on duty in the
US
,
Asia
, and
Europe
. The Marines used UH-34D mainly for assault missions. In
Vietnam
, UH-34s were primary means of troop transport and casualty evacuation. Also operated by Army and Marines as part of shared responsibility in operating Executive Flight Detachment for transporting the President and other VIPs. In 1961, Marine UH-34D was used in recovery of astronaut Alan Shepard following splashdown in Freedom 7. The final version, S-58T, used to test turbine engines. Latter offered marked reduction in weight; R-1820, the lightest reciprocating engine weighed 1.31 lb/hp, while early T58 turbine weighed only 0.22 lb/hp. The S-58 achieved world speed records of 141.9 mph over 100 km, 136 mph over 500 km, and 132.6 mph over 1000 km.
UH-2A/B Seasprite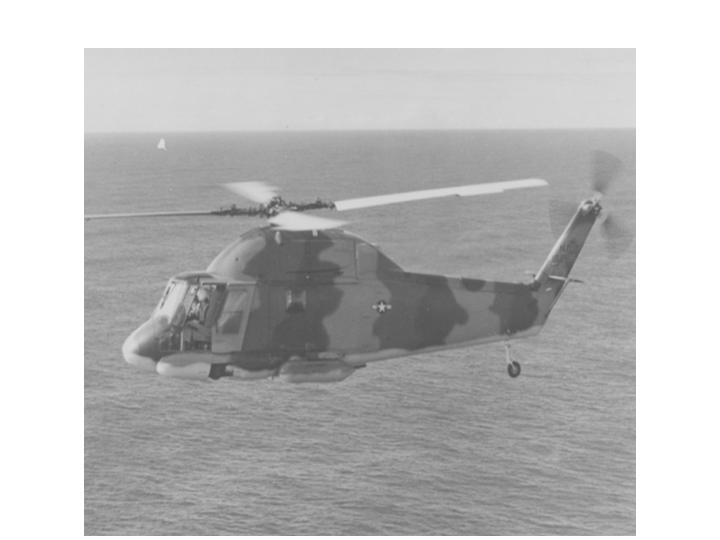 The H-2 originally entered Naval service as the Kaman HU2K-1, a single-engine light utility helicopter primarily deployed aboard aircraft carriers in a Search-and-Rescue (SAR) role. When the aircraft numbering system was changed in 1962, the HU2K-1 was redesignated the UH-2A and the HU2K-1U was redesignated UH-2B.
The Seasprite's primary missions include anti-submarine and anti-surface warfare, anti-ship missile defense, and anti-ship surveillance and targeting. Secondary missions may include medical evacuation, search and rescue, personal and cargo transfer, as well as small boat interdiction, amphibious assault air support, gun fire spotting, mine detection and battle damage assessment. The HH-2B, call sign "Clmentine" was used exclusively to rescue downed pilots in North Vietnam. The airframe continued to undergo upgrades, most significantly the addition of a second engine and external stores stations. Eventually migrating to the HSL community.
UH-1B/C Huey Helicopter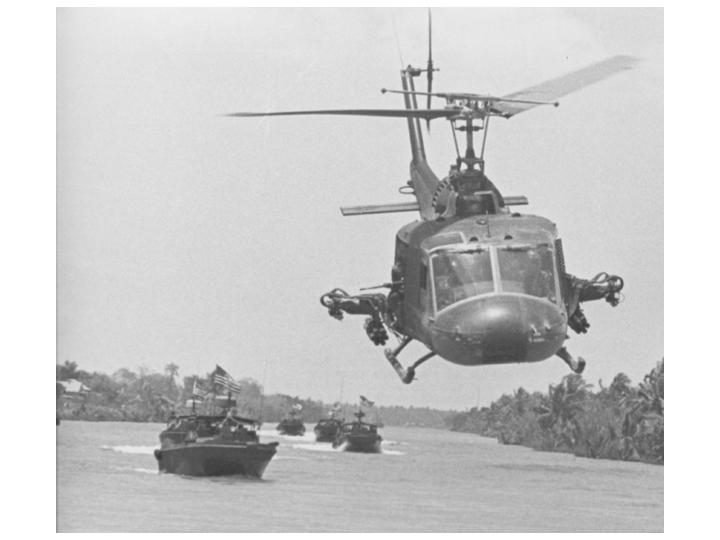 The UH-1 has long become a symbol of US involvement in South East Asia and Vietnam, and as a result of that conflict, has become one of the world's most recognized helicopters. The Navy used the UH-1B/C extensively during "Operation Gamewarden" as detachments in HC-1 later to be designated as HA(L)-3 "Seawolves".
In Vietnam primary missions included general support, air assault, cargo transport, aeromedical evacuation, search and rescue, electronic warfare, and later, ground attack. During the conflict, the craft was upgraded, notably to a larger version based on the Model 205. This version was initially designated the UH-1D and flew operationally from 1963.
During service in Vietnam, the UH-1 was used for various purposes and various terms for each task abounded. UH-1s tasked with a ground attack or armed escort role were outfitted with rocket launchers, grenade launchers, and/or machine guns.
CH-46 Sea Knight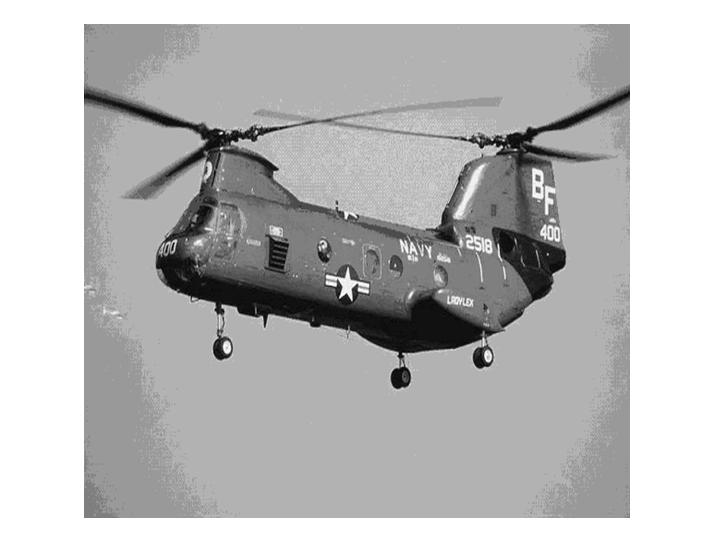 The Boeing CH-46 Sea Knight helicopter has served the US Navy and Marine Corps faithfully since the early 1960s. The Sea Knight was originally designated the H-49. This venerable aircraft's primary mission areas in the Navy (as the H-46D) included Combat Logistics Support and Vertical Replenishment (VERTREP), Search and Rescue, and Special Operations. As a Marine Corps platform, the H-46E is used primarily during cargo and troop transport. The unique tandem-rotor design of the Sea Knight permits increased agility and superior handling qualities in strong relative winds from all directions, allowing, in particular, rapid direction changes during low airspeed maneuvering. This capability has resulted in the safe, efficient and graceful transfer of many millions of tons of cargo and many thousands of passengers over the years.
H-3 Sea King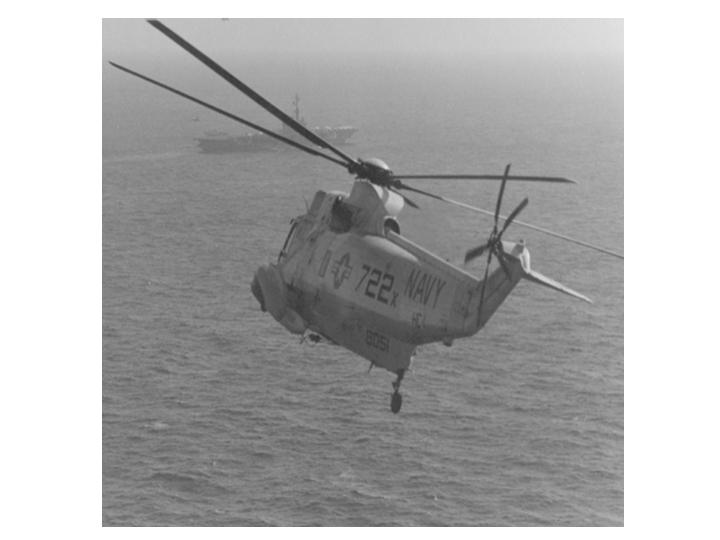 Designed by Sikorsky, the Sea King first flew in 1959, and was operational with the United States Navy in June 1961 as the HSS-2. The designation for the aircraft was changed with the introduction of the unified aircraft designation system in 1962 to the H-3. It was intended from the start to be used for shipboard operations (e.g., the five main rotor blades as well as tail section with its five blades can be folded for easy stowage). It was used primarily for anti-submarine warfare, but also served in anti-ship, search and rescue "Big Mother", transport, communications, executive transport and Airborne Early Warning roles. For flight operations the helicopter is the first aircraft in the air and the last to land serving as plane guard and SAR for the fixed winged aircraft. In the US Navy, it was replaced in the ASW and S&R roles by the SH-60 Sea Hawk during the 1990s, but continues in service for other roles, for ASW in the reserves, and around the world. All H-3 aircraft still in US Navy service are used in the logistics support, range support, Search and Rescue, test, and VIP transport roles.
CH-53E Super Stallion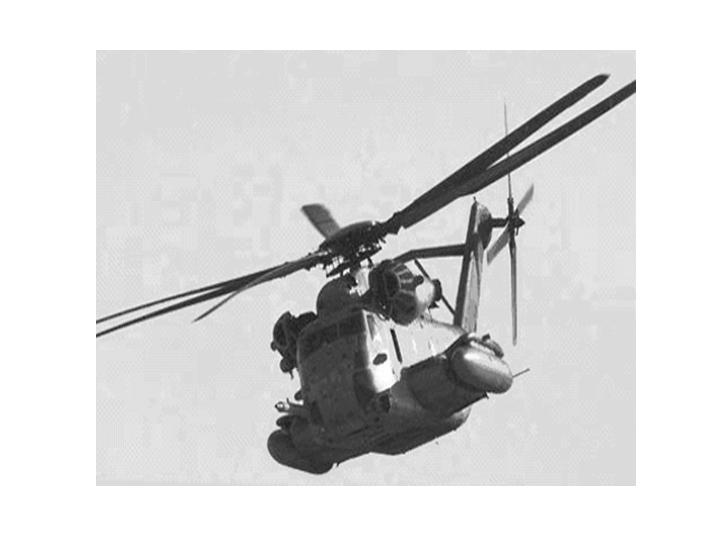 The CH-53E Super Stallion, the Marine Corps' heavy lift helicopter, is one of the few helicopters in the world configured with 3 gas turbine engines and in-flight refueling. The CH-53E is a larger version of the CH-53 Sea Stallion, and the largest helicopter in the U.S. military inventory. It is used by the Navy to transport personnel and equipment, lift heavy loads and conduct minesweeping missions. The Air Force version, equipped with sophisticated electronic countermeasures systems, is used for long-range delivery and resupply of special operations forces and combat rescue missions.